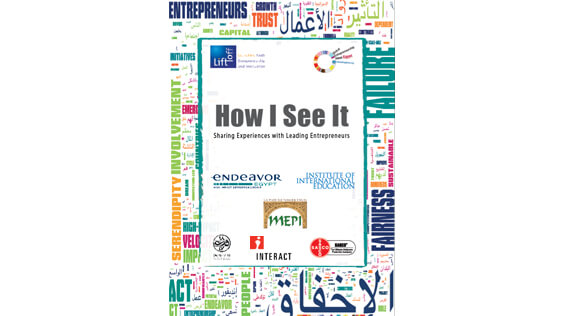 As a part of the Global Entrepreneurship Week, Interact Egypt, the Social Media Sponsor of Endeavor Egypt, is happy to announce Endeavor's 2nd "How I See It" Event, after the success of the 1st Event. It will be on Saturday Nov.19, 6:00pm-9:00pm at Darb 1718 Culture Center, Old Cairo.
Global Entrepreneurship Week is the world's largest celebration of the innovators and job creators, who launch startups that bring ideas to life, drive economic growth and expand human welfare… see Ad
During one week each November, GEW inspires people everywhere through local, national and global activities designed to help them explore their potential as self-starters and innovators. These activities, from large-scale competitions and events to intimate networking gatherings, connect participants to potential collaborators, mentors and even investors—introducing them to new possibilities and exciting opportunities.
The main goal of this event is to cultivate the concept of Entrepreneurship in the perception of young students through meeting with and sharing the experiences of most successful leading local and global entrepreneurs!
Some of these entrepreneurs will share their experinces at the event such as; Amr Shady, Heba El-Gammal, Osama El-Batran, Mohamed Hamouda (Entrepreneur of Ahlawy), Moatassem. Moreover, International pioneers as Khaled Bichara (CEO of Linkdotnet and Executive Chairman of Orascom Telecom) and Wences (technology entrepreneur, co-CEO of Lemon, Incand a founding partner of MECK Ltd.)
This event is done in correlation with the Institute of International Education (IIE), and sponsored by The Middle East Partnership Initiative (MEPI), Endeavor's Social Media Sponsor; Interact Egypt and SASCO Group.
The liftoff initiative has already started the cultivation of the Entrepreneurship concept in the minds of three main activities Inspire, Enable and Foster that embrace workshops, competitions and seminars to enhance youth aging, 14-18 years, 18-26 years, 26-35 years respectively. To know more about Liftoff Initiative, visit their website at http://www.liftoffinitiative.net/
An E-moments YouTube campaign was built to promote the Liftoff event with videos about Endeavor Entrepreneurs success stories.