Looking ahead at the future of content:
The semantic web is inherently open and democratic. Anyone can contribute by linking his/her data with others' data. Everyone, just like in the web of pages, can help to build super-human knowledge graphs.
This revolution is starting from a single blog post
read here the full article How the semantic web revolution is starting from a blog post
Why Blogging is important for your business:
1. Blogging Boosts Search engine optimization
Blogs allow you to have updated information and new keywords added regularly, which are going to increase your SEO and further help your traffic
Search engines love fresh content. By blogging consistently, you give Google and other search engines new content to index
2. Blogging Drives Traffic
Blogging regularly will increase visibility and thus increase the traffic to your website, thereby increasing page views and hits as your business get more exposure.
3. Blogging Adds Value
Blogs enable you to add further value to your business; by applying storytelling techniques and compelling posts; you give your readers materials they are interested in, while showing your expertise in your field you add value to your product or message.
4. Blogging builds networks and trust
Valuable and interesting blog posts attract readers who will then regularly visit your blog by regularly posting valuable, honest articles on your blog the more trust you will gain and thus Blogging  will expand your network of friends, business associates, and clients
5. Connect people to your brand
Blogging builds brand awareness for the different services you offer, thereby creating engagement among your readers.
It lets you closer to your target audience which likes to hear what you say and follow you and give you their direct feedback instantly
6. Strengthen your social media presence
by creating valuable content it will have a huge impact on your presence on various social media platforms, content that adds value to readers which will make them likely share it with their circles thus will attract new audience to your blog.
Blogs thrive on social sharing and interaction. They are designed for this…Furthermore, blogs offer multiple subscription possibilities to enter in a more frequent, personal and better-targeted dialogue with visitors.
How is Business Blogging different from Regular Blogging?
A Business blog is a marketing channel (just like Social media, direct mail, email marketing, etc.) that helps support business growth, Business Blogging is a marketing tactic that uses the art of storytelling as the spotlight to attract more online visibility to your business; Business Blogging increases support of business growth
here are the Basic Steps for starting a blog
The Effective Strategy for Blogging: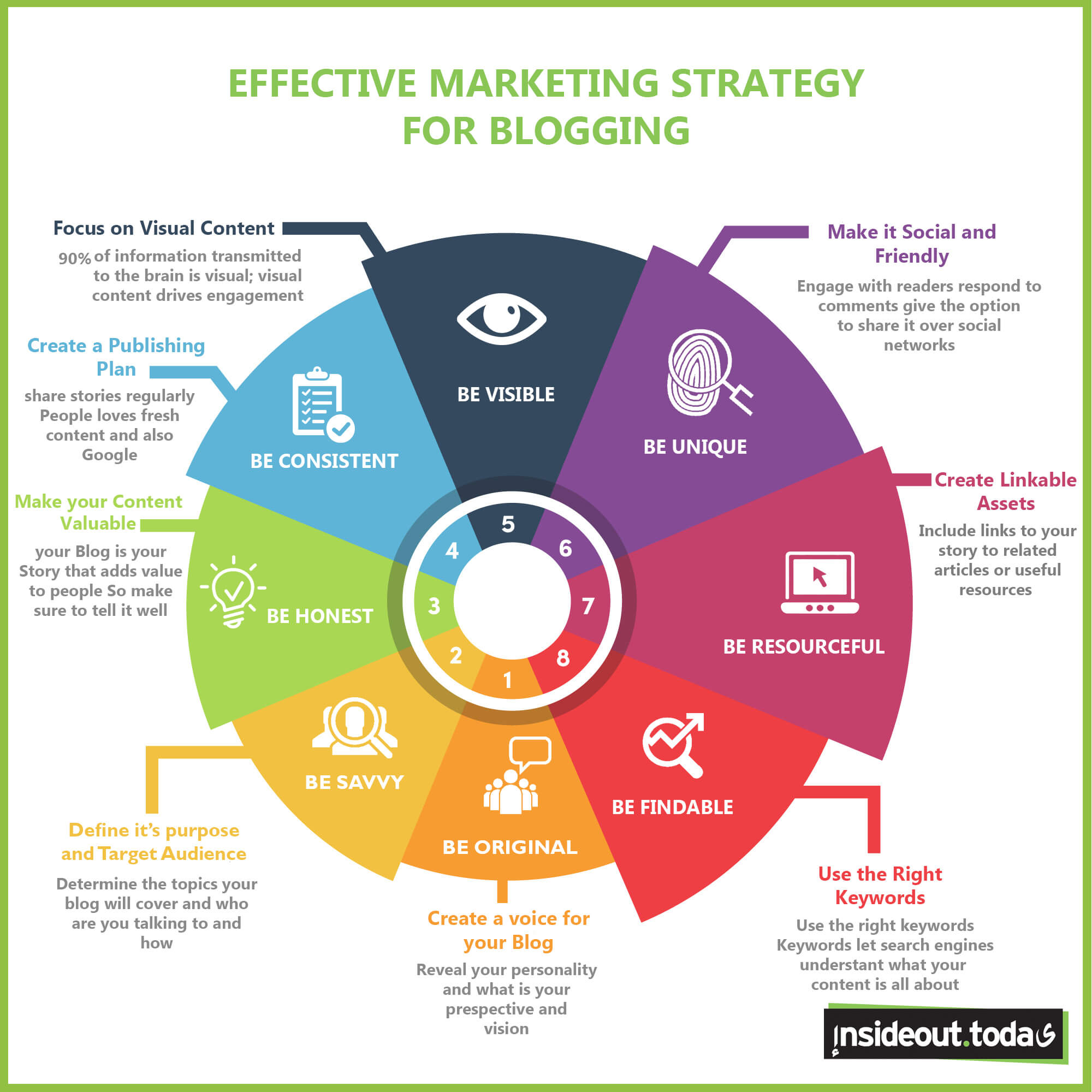 Read here all about the effective strategy for blogging  
Choose the right Link Building Tool is essential to your success
Whether you're managing a Business or a Regular Blog, link building is one of the most crucial and difficult parts of your SEO. You need quality backlinks to make Google determine your rank for a search query: the more backlinks to your site come from other high-quality sites, the higher is the chance to gain relevance for specific keywords. Create a link building campaign is, therefore, a critical task and you'll need an effective tool to reach the best results. Linkio is a powerful link building management software that will help you plan your strategy and set up impressive link building campaigns. It is also pretty easy to use: once you import your previous backlinks, your competitors' data and your preferences (based on your target, your industry etc), it will provide you with a competitive anchor text planning and with suggestions on what exactly needs to be done to boost your backlink profile.
Now that you understand the importance of blogging and what makes up a successful blog and how to set your blogging marketing strategy, it's time to take this knowledge and start blogging with a purpose in mind using the right tools that can enrich your blog posts and gives you better visibility over search engines, thus boosting the traffic to your blog!
Try Wordlift now A WordPress Plugin that does what an SEO expert would do