While websites are still the cornerstone of the Internet, websites have never really enjoyed the kind of popularity that blogs have recently gotten. As opposed to websites, blog entries have personal dimension that adds credibility, interaction, relationship-building a sense of community and familiarity it's the friendly face of any organization.
Blogging makes it extremely easy for anyone to become an online publisher with its easy to use publishing platforms.
And here below a very useful infograph about why Every business should blog!

Infographic source Quicksprout
Summarizing the biggest benefits of blogging and why it matters to your business:
1. Blogging Boosts Search engine optimization
Blogs allow you to have updated information and new keywords added regularly, which are going to increase your SEO and further help your traffic
Search engines love fresh content. By blogging consistently, you give Google and other search engines new content to index
2. Blogging Drives Traffic
Blogging regularly will increase visibility and thus increase the traffic to your website, thereby increasing page views and hits as your business get more exposure.
3. Blogging Adds Value
Blogs enables you to add further value to your business; by applying storytelling techniques and compelling posts; you give your readers materials they are interested in, while showing your expertise in your field you add value to your product or message.
4. Blogging builds networks and trust
Valuable and interesting blog posts attract readers who will then regularly visit your blog by regularly posting valuable, honest articles on your blog the more trust you will gain and thus Blogging  will expand your network of friends, business associates and clients
5. Connect people to your brand
Blogging builds brand awareness for the different services you offer, thereby creating engagement among your readers.
It lets you closer to your target audience which likes to hear what you say and follow you and give you their direct feedback instantly
6. Strengthen your social media presence
by creating valuable content it will have a huge impact on your presence on various social media platforms, content that adds value to readers which will make them likely share it with their circles thus will attract new audience to your blog.
Blogs thrive on social sharing and interaction. They are designed for this…Furthermore, blogs offer multiple subscription possibilities to enter in a more frequent, personal and better targeted dialogue with visitors.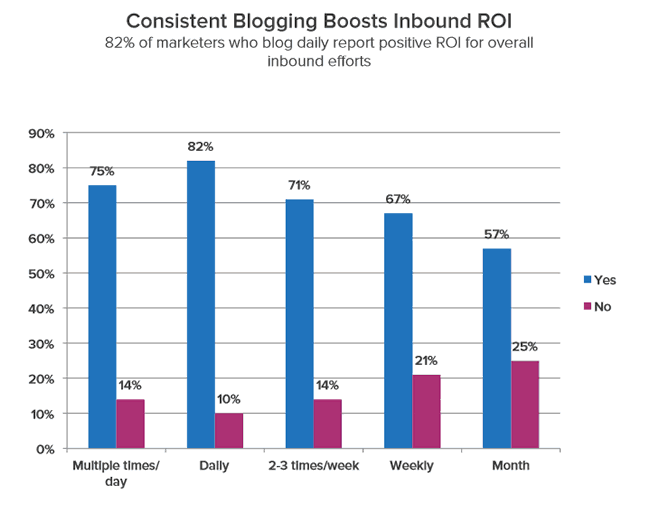 Source: Consistent blogging boosts inbound ROI – The
State Of Inbound Marketing
2013 by HubSpot  Source
Choose your message, audience, online identity and social networks and start a blog today and don't forget to blog regularly, focus on data visualization which allows you to foster familiarity & consistency with your viewers feeds, use the right keywords, and finally promote your post.
And here is a very interesting analysis published by hubspot on how often should companies blog
If you have more to add kindly comment below or share with us other useful links or resources.