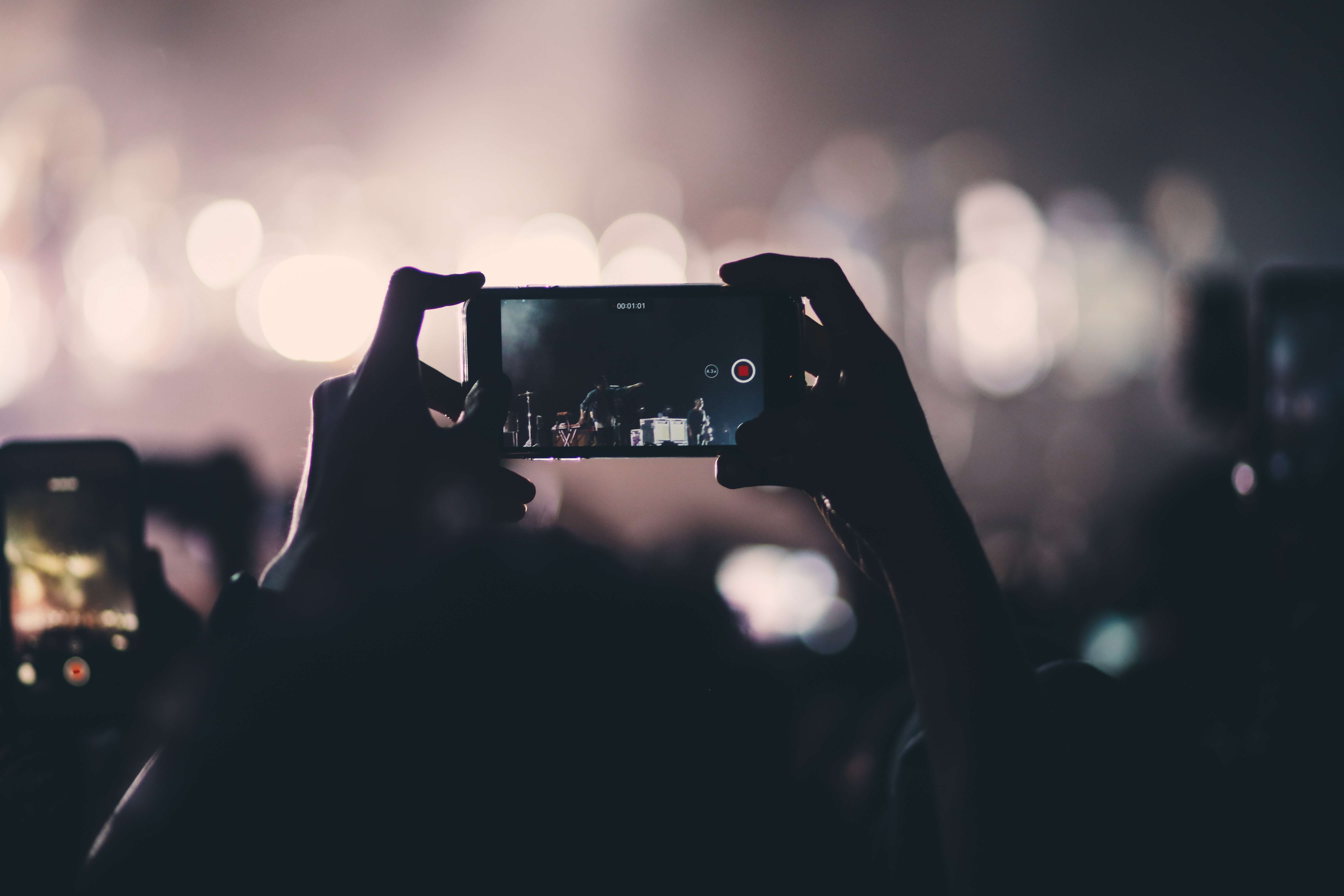 In the past couple of years, video content has notably boomed especially with the rise of different forms of videos such as live videos, 360 videos, VR videos, and technology continues to surprise us each year with astonishing concepts and inventions that take videos to another level.
In 2019 video content is expected to grow even stronger, video is anticipated to dominate the online marketing arena and that is mostly true for live videos, the trend that has been taking over Facebook and Instagram in the past couple of years. The originality and the immediacy of these live videos have attracted viewers and social media users globally.
Michael Stelzner founder of Social Media Examiner conducted a survey where more than 5000 marketers mostly in the United States answered question regrading social media marketing trends.  According to the report's results,  social media marketing is definitely moving towards including more visuals, specifically more videos. The participants identified five different types of social media content that they use in their social media marketing activities. These are visual images, videos, blogging, live videos, and podcasting. The major percentage of 80% went to visual images, followed by videos at 63%, blogging at 60%, live videos at 35%, and lastly, marketers use podcasting only 9% of the time.
Interestingly using videos for social media marketing moved from 57% in 2017 to 63% in 2018. While live videos moved from 28% in 2017 to 35% in 2018. Witnessing this rise in video content is due to the fact that when asked which content form these marketers wish to learn more about in the future, videos went to the top of the chart with 77% followed by live videos at 68% and visual images at 65%. Therefore marketers when asked whether they'll increase, decrease, remain the same, or not use various forms of content. They indicated that they would increase videos by 77%, visual Images by 68%, live video by 63%, blogging by 57%, and finally podcasting by 25%.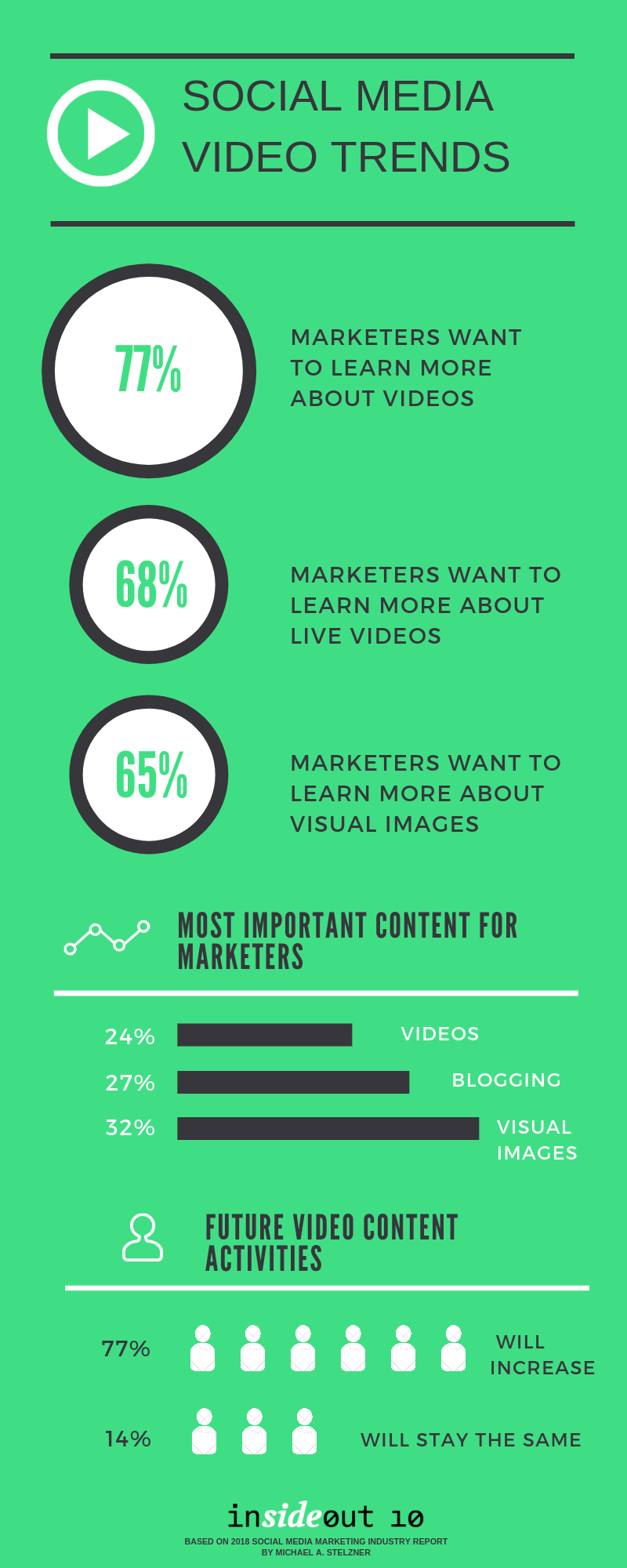 We have witnessed the rise of live video in the past few years; to be more specific YouTube started this featured back in 2012 for selected partners and verified accounts. The popularity of this feature among many viewers and mobile users encouraged Facebook and Instagram to follow the leads of the video streaming giant. The strong continuation of live videos in 2019 has created opportunities for marketers to engage audiences and creating strong relationships with their brand followers.
Some risks accompany live streaming, just like any type of technology due to technical difficulties and random problems that arise from the nature of going live, however viewers are likely to understand these issues owing to their geniality and authenticity. In addition, issues actually might increase relevance to both sides.
Mike Allton, Brand Evangelist, Author and Content Marketing Practitioner at The Social Media Hat said that:
"As more and more devices and platforms support video – and in particular, live video – it's becoming imperative that brands have a video strategy."
Generation Z and Millennials thrive to trustworthiness and realism in their relationship with brands. Their intensive mobile usage and instant gratification needs will increase the popularity of short feature content in 2019. Hence, it is essential for social media content creators and marketers to form a strong video strategy that not only develops audience engagement with the brand but also establish FOMO (fear of missing out) effects among the follower.
The biggest development in 2018 ongoing to 2019 regarding video is the launch of IGTV by Instagram. Many were confused by this new addition at the beginning including myself. It was not clear how can we use this new tool to market brands. IGTV is a long video feature that can last up until one hour, which makes it different than other types of videos on social media. Despite its dissimilarity in format to the other videos on social media the IGTV has encouraged many brands and dare I say "Social Media influencers" to become broadcasters, bringing variety, authenticity, and relevance to video content for mobile users. Initiating IGTV as its own platform similar to conventional TV with its separate channels only for Instagram users will boost the likability and growth of Instagram between users in 2019, which in turn will open new paths of social media marketing  
Live videos seem to increase people's trust and relevancy of the brand, which in turn might affect customer retention in a positive manner. Hence, live videos or video content , in general, is an opportunity for brand exposure and growth that you don't want to miss out on in 2019.
If you are interested in a video strategy to market your brand online and key solution tailored for your needs to generate revenues with videos, contact Insideout 10 today to know more about our video marketing solutions and services, we would be delighted to help!