Global Entrepreneurship Week is the world's largest celebration of the innovators and job creators who launch startups that bring ideas to life, drive economic growth and expand human welfare.
During one week each November, GEW inspires people everywhere through local, national and global activities designed to help them explore their potential as self-starters and innovators. These activities, from large-scale competitions and events to intimate networking gatherings, connect participants to potential collaborators, mentors and even investors—introducing them to new possibilities and exciting opportunities.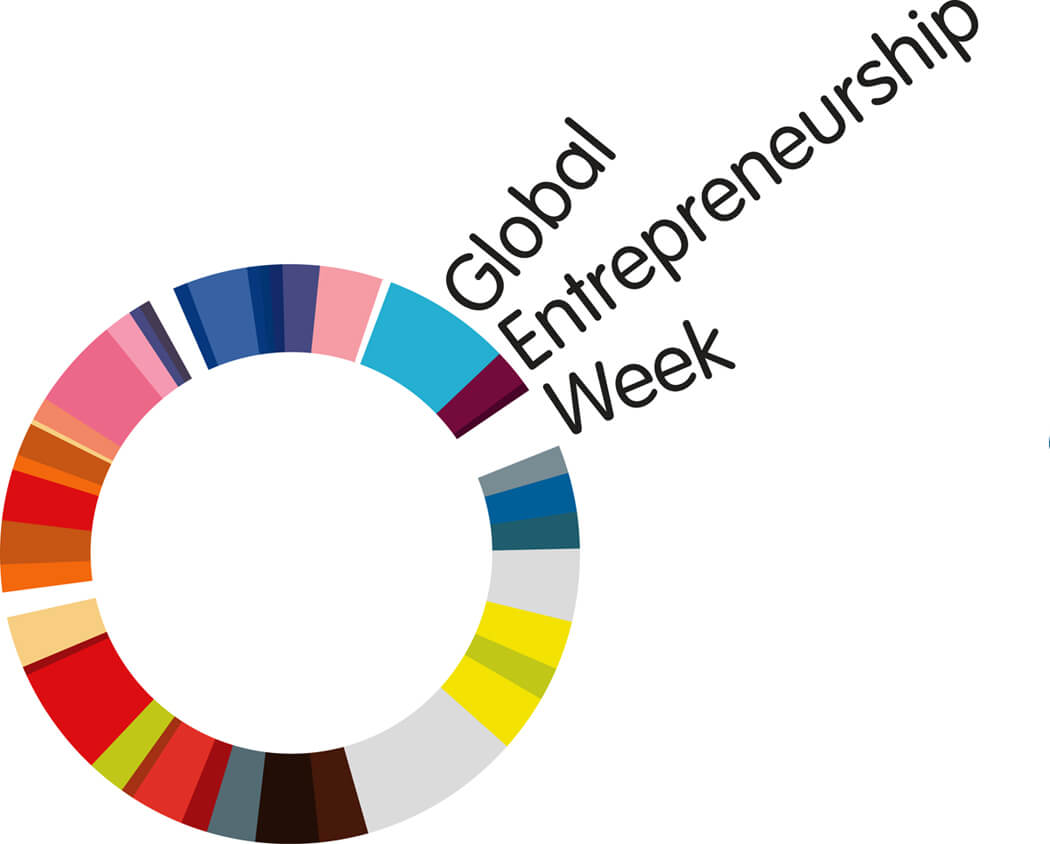 Celebrating Global Entrepreneurship Week in Egypt:
With over 150 countries participating and celebrating the Global entrepreneurship week in all its form; GEWEgypt with the great support of MCSBE team the GEW Egypt kicked off  from 16 to 23 November with over 120 activities.
The opening ceremony started on Sunday 16th November 2014 at The GrEEK Campus, Down Town, Cairo with lots of interesting activities taking place during the week by MCSBE and as well by strategic partners ILO and EJB. the event is sponsored by Vodafone, Organizing Partners include Nahdet El Mahroosa, MC Egypt, Ice Cairo, VC4Africa, Cairo University, Nile University, AUC, BUE, Arab Academy for Science & Technology and Maritime Transport, AWTAD, Injaz, Innoventures, US Embassy, Phai, Maan,  and many others. – Read more here
One of the Remarkable events that took place on November 19th & 20 is Cairo Innovates organized by the Academy of Scientific Research and Technology in cooperation with Nahdet El Mahroussa: a 2 day event transforming The GrEEK Campus in Tahrir Square into a science hub!
The Opening Ceremony was attended by Minister of Scientific Research Sherif Hamad, former Prime Minister Essam Sharaf and the former Minister of Higher Education Amr Ezzat Salama and director of Nahdel El Mahroussa Loay El Shawarby, As well as heads of research centers and institutes and universities and a number of business owners and representatives of civil society organizations

Cairo Innovates is an event gathering that brings together all regional R&D stakeholders in one place — the pipeline of innovators and scientists who are Egyptianising technology and building the Egyptian economy and the mentors, accelerators, incubators, investors and crowd-funding platforms that can empower and drive their innovation.
 The aim is to create a buzz for science and encourage its local growth. For the first time, Egyptian scientists and innovators will take over the GrEEK Campus — we want their excitement to become contagious! says Cairo Innovates
Also an Employment fair for Startups by Injaz Egypt giving the opportunity to youth and startups to explore all Employment opportunities available in the market.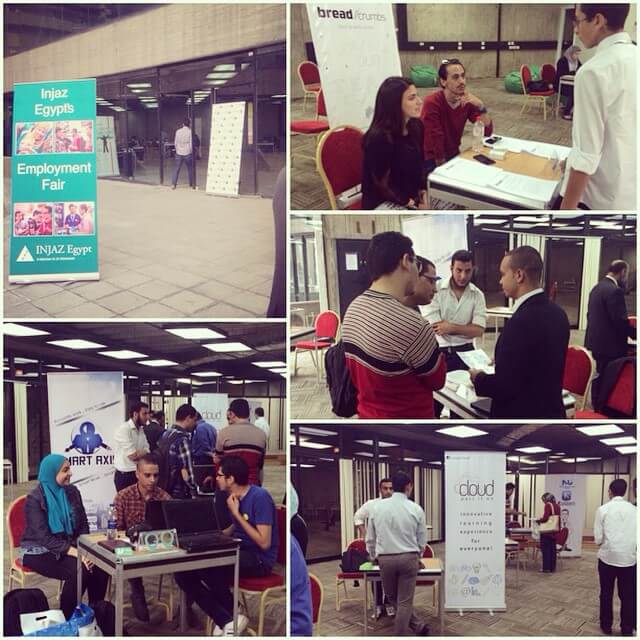 Injaz Egypt Employment Fair
Bottom Line
Egypt Has great potential  for entrepreneurship to serve as a dynamic force in a New Egypt as well improving the state of the national economy in Egypt and start-ups have good growth potential
Proudly there's great organizations in Egypt supporting and empowering the new generations, the Entrepreneurs and Startups through different options  incubation, extensive mentorship and funds such as Startup Mena, Masrdotbokra, Injaz Egypt, Endeavor Egypt, Flat 6 Labs, Nahdet El Mahrousa , AUC School of Business, Startup weekend, and lots More
We as InsideOut Today always proud to  be part of the community and supporting the Startups we also participated  last month at RiseUp Egypt Summit (Riseup summit is Egypt's largest entrepreneurship summit to be held for the 2nd year) and we provided lots of interesting activities at the Summit check it here
We also hold a public chat over twitter Every other Thursday at 1 PM (Cairo – Egypt – Local Time) for one hour using the hashtag #IOTTT to discuss latest topics & trends related to business & technology, this month we are talking about Online Video Marketing!
And gladly we will host a special Twitter chat on the Occasion of the GEW on Sunday 23 November at 12 Noon to Discuss Egypt entrepreneurs foster innovation during GEW!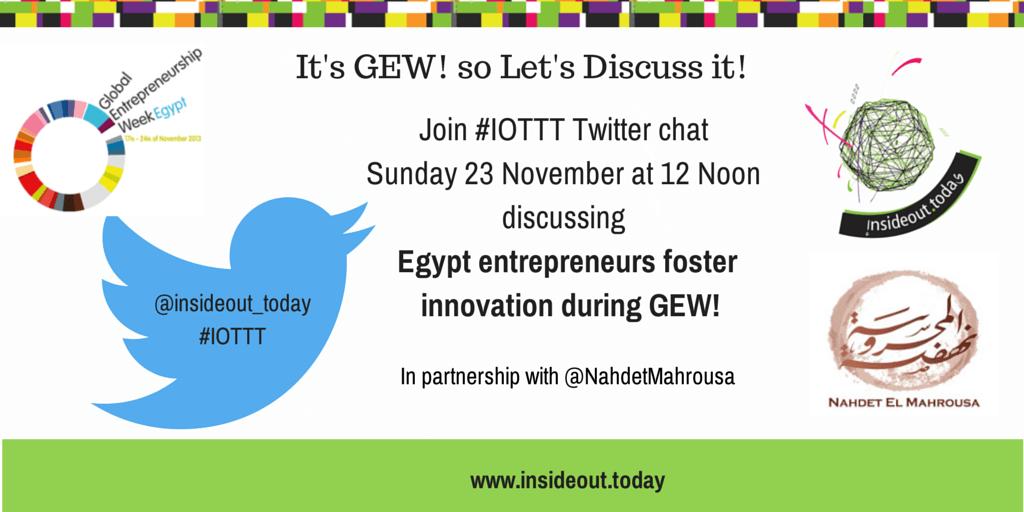 Get Involved and Join #IOTTT twitter chat we value your opinion!

Here's how:
Follow @insideout_today
Click here to view and follow the feed directly on Twitter.

Add the hashtag #IOTTT to each of your tweets and begin each response by noting which question you're answering ("A1:" to answer question 1, for example) So everybody can follow along

And here is snap from #IOTTT past twitter chats