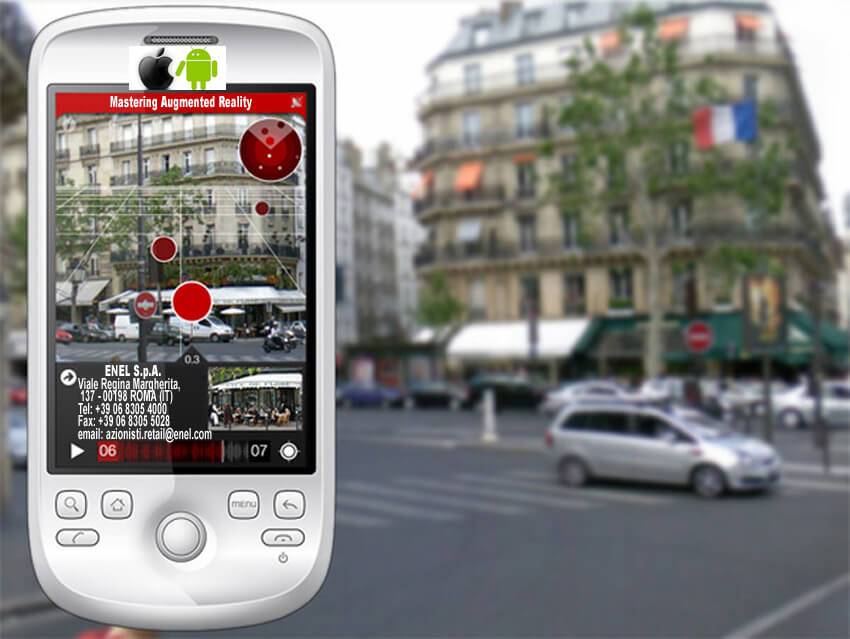 Abbreviated as AR, Augmented Reality is a type of virtual reality that aims to duplicate the world's environment in a computer. An augmented reality system generates a composite view for the user that is the combination of the real scene viewed by the user and a virtual scene generated by the computer that augments the scene with additional information. The virtual scene generated by the computer is designed to enhance the user's sensory perception of the virtual world they are seeing or interacting with.
Through collaboration between Enel and Interact Egypt (and its holding company IO10), today we are proud to announce our launch to an AR Content Supplier (Back-end channel) to Enel.
Interact, the certified partner of Layar, has developed two versions of the application, that work on the two famous platforms Layar and Junaio.
The application simply creates virtual point if there is a sales outlet within 1 mile of the point's radius. This virtual point is clickable and enables calling, e-mailing or monitoring the route to the closest sales store.
Enel is Italy's largest, and Europe's second largest energy company with an extensive  outreach in  23 countries supplying a population of over 60 million users with electricity and/or gas.
Check out previous apps developed by Interact to Enel.