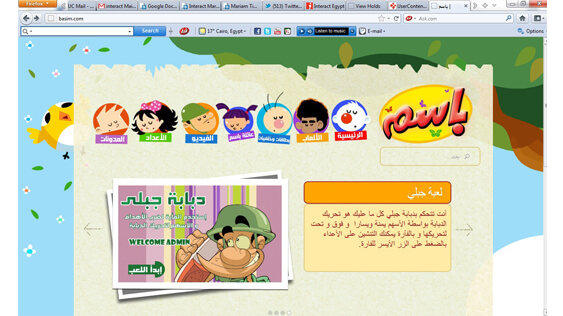 Interact Egypt is proud to announce the launch of Basim kids magazine portal www.Basim.com. This portal is the latest addition to the Saudi Research and Marketing Group strategy towards E-publishing and moving strongly and rapidly to the digital world.
This portal acts as the online identity of Basim Magazine as well as a safe social network for Arab kids. It reflects the same existing print identity, on the internet, to provide Basim magazine content in an appealing and eye-catching look and feel to internet users in a rich online presence that is easy to find, reach and share.
This rich online presence also boosts Basim magazine identity & content beside the paper version; it provides many interactive features that take the portal visitors much beyond the one-way paper version. It's a state-of-the-art graphic design that follows latest usability guidelines and trends in order to deliver to the online readers the best user-friendly experience, especially for kids.
The portal also offers interesting social networking features whereby kids can subscribe to become members on the portal as Basim fans. Kids can start also visit the profiles of other fans and add them as friends to start building their own social network over Basim portal. This is done under full supervision of admins who moderates kids' uploaded images and posted texts ensuring all their community is safe and interesting to them.
Then comes the developed flash games, with the idea of collecting "user points" through many activities on the portal including playing games and achieving higher scores. Points can be exchanged later with gifts offered by Basim like annual subscriptions..etc
The web portal makes use of the cutting edge technologies of the Web 3.0 while providing an easy way to organize and manage next generation multimedia contents with the ability to create on-the-fly new publishing interfaces and dedicated data feeds for content syndication.